Reproduced with permission from Outsider magazine
Outsider magazine tonight host their second annual People of the Year awards at Generator in Smithfield Dublin. They'll present the chosen people under the following categories: Most Inspiring Person; Audience Award, Breakthrough Performance of 2013; and Most Devoted to the Outdoor Scene. Finally, we'll present the top accolade of Outsider of the Year.
Tickets are available here and cost €10, simply select 'People of the Year Awards' from the drop down list and enter the amount. There's also an award for Best Outdoor Event, Best Outdoor Escape (Adventure Destination/Provider), Best Outdoor Photo and Best Outdoor Film. These will be chosen on the voting page.
In the meantime, be inspired by our Outsider People of the Year 2013 longlist. We think you'll agree, they're a fine bunch!
1. Calvin Torrans
"It would be hard to find a greater sporting role model than Calvin Torrans," says Karl Boyle, CEO of the Mountaineering Ireland.
"'Legendary', 'modest', 'prolific new router' and 'all round Irish climbing hero' says Dave Ayton, of Awesome Walls Climbing Centre, about this septuagenarian who set up the Irish Bouldering League with his wife Claire Sheridan, and has been at the helm of the Irish climbing scene for more than 50 years.
Through the 70s and 80s, Calvin, who hails from Belfast, was been part of serious expeditions to Manaslu, Garhwal, Kullu Valley and Kishwar in the Indian Himalayas, and K2 and Broadpeak on the border of Pakistan and China. Back home, Calvin was busy putting up new routes like Cúchulainn, Mizen Star, X-Men and Sandpiper at Fairhead.
Although he is unbelievably modest about his achievements, Calvin concedes, "I am most proud of the big routes I did on El Capitan in Yosemite. I did the Salathe and the Nose. They took three to four days. But once you've climbed them, they disappear into the background. You just get on with it and think about the next one."
And Calvin's climbing explorations continue, despite having smashed both his ankles during a fall in the Mournes two years ago. "It was just bad luck that I clipped a ledge. But there was no second thoughts about getting back climbing. That didn't come into the equation," he says.
This summer he and Claire climbed extensively in Europe and America, scaling the North Faces of Piz Badile in Italian-Swiss Dolomites and the Diamond on Longs Peak in Colorado. "Most of the new routes I've done, Claire would have been with me – or indeed doing her own. We share leading. She's was all the expeditions with me," he recounts.
And just last month, Calvin won the masters category of the Irish Climbing League. Boyle states, "Even though he's a really pure trad climber, it just shows that he's always pushing himself and trying something new."
But it's Calvin's behind-the-scenes work that is perhaps his greatest achievement. He only recently stepped down from Bord Oiliúint Sléibhe, the Irish Mountain Training Board and is renowned for taking young climbers under his wing. Calvin was the first Irish member of the International Federation of Mountain Guides, the highest qualification in the world for leading people in the mountains.
2. Jamie Young, adventurer
At 62 years old, Jamie Young has a lot of impressive adventures under his belt. It all started at 24 with the Observer Single-handed Transatlantic Race in a boat with no engine, radio or even a toilet. The following year, he repeated the ocean crossing, but this time as a honeymoon voyage with his wife Mary before the two returned to Ireland and founded the Killary Adventure Company.
And in recent years, Jamie hasn't slowed down a bit, continuing to let his "slightly itchy feet" take him — and others — around the world. His achievements include leading a sea kayak trip around South America's Cape Horn, joining the South Aris adventure that retraced Shackleton's steps in the Antarctic, and the North of Disko expedition to Greenland this summer.
By all accounts, Jamie was the heart and soul of the team of 10, who not only sailed from Iceland to Greenland but also undertook some epic climbing and sea kayaking in the Arctic. He showed his amazing leadership abilities and extensive knowledge of the sea by captaining the crew through four intense storms and facilitating the other activities of the expedition. And more importantly,as one crewmember told us, he helped the entire team turn a dream adventure into a real-life accomplishment.
3. Team Bold Puppy, ultra runners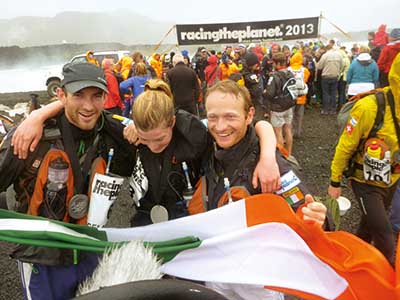 Irish Team Bold Puppy winning the team event at RacingThePlanet: Iceland in August.
The members of Team Bold Puppy – former Outsider deputy editor Heather Irvine together with John Murphy and Rory Arnott – barely knew each other when they set out for RacingThePlanet: Iceland in August. And none of them had ever undertaken an event like this before. The race entailed 250km on foot over six days starting at the Kerlingarfjoll Mountain Range and ending at the famous Blue Lagoon, near Njaovik.
The going was savagely tough over hardened lava, black sands and steep scree hills. After trekking for more than nine hours (40-50km) a day in adverse weather conditions, all competitors had to look forward to was a cold tent and a freeze-dried meal.
Heather in particular suffered greatly as she got a huge blister on her heel on day three. It then got infected. It was so bad that she was almost forced to quit and was awarded 'wound of the day' from that day on.
She laughs as she recalls the mantra that she says got her through the race. "If it is not painful, it is not worth it.
"My teammates became well accustomed to a high-pitched yelp on the first descent of the day as my dressing was ripped off within my shoe. I tried to put my pain in a little box at the back of my mind."
And yet, Bold Puppy topped the team leader board when they finished. Heather was also the first woman home in her age category and the seventh woman overall out of almost 90. Nice work guys!
4. Ciaran O'Reilly, cyclist
Designed to be one of the most gruelling bike races in the world, the Race Around Ireland comprises 2,172km without planned rest stops, official stages, marshals or a traffic-free course. Each rider (or team) must provide its own support crew and vehicles to look after food, clothing, medical care, bicycle repair, massage, and navigation. In a nutshell, it's a savage challenge.
Some might think that Ciaran O'Reilly, a 43-year-old father of three from Co Meath, had no real business thinking he could compete in this challenge. Sure he had cycled for the past 20 years but it was only in the last four years that he had trained in any way seriously. There wasn't much time thanks to his tyre business where he worked six or sometimes seven days a week for up to 16 hours a day.
In 2012, he signed up for the first time. But the race showed him what was what. Having broken the 1,000km mark he bowed out with a knee injury. Being classed a DNF sent him home devastated. But in 2013 he was back on the starting line.
This time he trained more seriously and put together a more comprehensive support team, which was headed up by his wife Susan and manned by members of their local cycling club, the Well Oiled Wheelers. The first 48 hours of the event involved battling gale force winds, hailstones and thunder and lightning storms. It was gruelling. Ciaran rode for five days and endured Achilles tendon injuries. But this time, he not only finished the race in 123 hours, he got himself on the podium in third place.
To really put this achievement in perspective, Ciaran was only beaten by two professional ultra marathon cyclists – Austrian Christoph Strasser and German Bernhard Steinberger. And he bettered the current Ultra Marathon Cycling World Champion, Valerio Zambini – all while raising more than €4.5k for Gary Kelly Cancer Support Centre.
"Really it's down to your crew. You couldn't do it without them. They are your team," says Ciaran.
5. Mary Daly, multi-sport racer
"Life definitely begins at 40!" So says Mary Daly from Westport who had the year of her life in 2013 since turning the big four-0.
It all started back in 2012 when, with three kids under three-and-a-half, Mary set herself the goal of completing the sprint category of Sea2Summit. "I couldn't even run 5km when I started. I was literally going from pillar to pillar," she recalls.
Roll on to November 2013 and Mary took top spot at the Westport race, the icing on the cake of a fabulous 2013. She also won the Connemara Conquest, the Currane Challenge, and the sport category of the Connemara Rough Diamond, as well as coming second in Race2Glory. Pretty impressive for a woman who had last taken part in competitive sport in her teens.
Rather than finding it difficult to find time to train, Mary says, "It's brilliant for getting your own headspace when you've been at home in the mayhem all day. If I didn't have that time out, I don't think I'd have handled it as well. It's the best thing ever."
Mary recently went back to work fulltime and says now she gets up early on Thursdays and Saturdays for training. "You just make the time. I'm finished on Saturday by the time they are getting out of the bed."
As for advice to other people who want to get involved she says, "Start slowly. And set yourself goals. You will get there. You'll get the breathing. Stick at it. Clubs and groups help too. It's much easier to go out when it's lashing."
6. Henry Tindal, adventurer
Even thinking about getting on a plane to Sydney, Australia, might make you reconsider going so the concept of cycling there is mind-boggling. Even Sligo man Henry Tindal (29), who just completed that feat, agrees.
When asked did he ever think about giving up, Henry answers ruefully, "Yes. Until I got to Tehran, giving up was all I ever thought about. I kept on trying to find a good enough excuse to do it – I had said I was going to cycle to Australia so I couldn't just give up for no reason. But after Tehran all I wanted to do was get to Sydney."
Tindal left Ireland on 29 February 2012 and arrived in Sydney on 15 November 2013 having cycled solo for 28,800km across Europe, Turkey, Iran, Turkmenistan, Uzbekistan, Kyrgyzstan, China, Southeast Asia, seven Indonesian islands, East Timor and the across the middle of Australia via Adelaide to Sydney. He averaged 100km+ per day and slept in everywhere from a tent to under motorway bridges, on beaches, on river islands, in deserts, and the bush.
Tindal says his lowest point was definitely the first morning "when I woke up hungover and realised that I was actually going to do this ride. I also had a pretty bad day in Turkey where I was so close to getting a bus back to Istanbul to fly home. But low points are followed by high points. That night I made it to Cappadocia, and seeing the beauty of the landscape, I could think of nothing better to do than to keep cycling."
He adds, "Some of the countries with the worst reputation in the west were the safest countries to travel through – like Iran. People were so welcoming and friendly."
Henry under took his epic adventure for the Irish Youth Foundation charity. "I dropped out of school when I was 16 and moved out of home. I spent a couple of years working in McDonalds and other jobs before my parents said they would give me a chance to get my life back on track and finish school. I chose the Irish Youth Foundation because they were the closest thing I could find to a charity that helps Irish children like me, who've gone a bit off the rails."
7. Eoin Keith, ultra runner
It may just be the understatement of the year to say that 2013 was a huge year for ultra-runner Eoin Keith.
In August, Eoin placed second in the vets category (40-50), and 20th overall, in the Ultra Tour du Mont Blanc – the epic 166km race which takes place across the French, Italian and Swiss Alps and going through numerous mountain passes of more than 2500m. It is widely regarded as the toughest foot race in Europe.
His time of 24h 44mins was close to five hours quicker than the last time he completed the full course, despite having huge blisters on both feet having ignored small stones in his shoes on the first descent.
"There were literally tears in my eyes at the finish. I was beaten by about 30 minutes in the end. That's actually pretty close. I reckon we would have had a great race for it if it hadn't been for those blisters. You know you've got a problem when the doctors in the medical tent are standing around taking pictures of your feet. I literally couldn't walk as soon as I stopped."
The UTMB wasn't the only notch for Eoin's belt this year either. At the ultra running world championships in Holland in May, he was the highest placed Irish athlete covering a distance of 234km in just 24 hours. Two weeks later, he broke his own Wicklow Way record with a time of 12h25. Two weeks after that again, he broke the Mourne Way Ultra record with a time of in a time of 7h39. Six weeks later in July he smashed his own PB and the Irish 24-hour track record covering 244.664km in 24 hours.
Eoin was recently named Ultra Athlete of the Year by Athletics Ireland. Not at all bad for someone who opted for hillwalking and golf over running until he was 30!
To cap off his year, Eoin just got married to Helen Dixon. Fittingly, he popped the question to her after they both finished the Irish 24-hour race. Sounds like a match made in heaven.
8. Ger Devine, The Camino Gent
Ger Devine on his 27-day, 1000km Camino de Santiago trek.
Ger Devine deserves an award for pure craic following his 27-day, 1000km Camino de Santiago trek. The 38-year-old Dublin firefighter and stand-up comedian had planned on completing the Camino in one go during September but ended up walking the entire route wearing a €900 Louis Copeland suit and runners, and carrying nothing but a briefcase and umbrella. All as a result of a dare from his pal PJ Gallagher.
Apart from walking between 40 and 60km a day, Ger had to find the mental strength to endure 'who's that lunatic?' looks from fellow pilgrims and sleeping outside in cold temperatures with just a silk sleeping bag liner when hostel guardians told him there was no room at the inn.
"In one sense, I was the best-dressed person on the Camino but I looked like a tramp," says the cycling, hurling and hill-running fan. "Some pilgrims and some albergue bosses didn't get what I was doing and for four nights in a row I was told there was no space. They're supposed to be Christian people and I began to really hate them for making me sleep outside.
"The Camino is a spiritual experience for many people but when someone asked how I was doing, I said; 'Well, I'm losing my religion and I've started drinking again after a break of one-and-a-half years.' I'm not sure that was the desired outcome!"
9. Mark Pollock, trail blazer
Unless you've been living under a rock for years, Mark Pollock needs no introduction. This is the man who went blind at 22 but went on to race to the South Pole, run six marathons in seven days in the Gobi Desert, complete the Tenzing Hillary Everest Marathon, and complete the Round Ireland Yacht Race in a two-man team.
Then in July 2010 Mark fell out a window and was paralysed from the waist down. Yet he continues to break new ground in a bid to find a cure for spinal injury. These days he is back on his feet using a high-tech exoskeleton – a pair of computer-powered bionic trousers – that helps him stand and walk in the gym. He can now do about 2,800 steps an hour which is about a third to half of normal.
In a nutshell he redefines the word 'inspiring'. In fact, at last year's Outsider People of the Year awards, he was awarded Most Inspiring Outsider. However, he is still firmly on this list as he continues to blow our minds.
These eloquent but excerpted words from Mark's blog probably sum him up better than anything we could ever say.
"In preparation for the South Pole Race I learnt a lot about Shackleton, Scott and Amundsen, the polar explorers who carved those first trails into the ice in Antarctica. Their stories inspired and excited me, but I never felt like an explorer during the race. They were the first, the pioneers – that was their privilege, their courage, their sacrifice… I, and everyone who came after them, have simply been adventurers on a different type of quest.
"Over the last few months I have begun to make sense of the irony of where I find myself now. The moment I fell and was left paralysed everything changed. No matter how much I fight against it, it has. Forever. When I raced to the South Pole I was an adventurer, now I am not… If I dwell upon what I have lost too much, it could break me. Instead I see the irony of my new blind and paralysed self. My identity as an adventurer is gone, yet I am closer to the polar explorers than I ever was while skiing to the South Pole.
"I roll to Trinity every day in my wheelchair and strap my paralysed legs into my robotic legs and I walk. I walk miles and miles of uncharted steps. Success is uncertain, maybe even unlikely…
"Of all the things I have ever done this has the greatest chance of failure over success… We don't know where the cure is. Out there, somewhere, like the South Pole…
"So, I am embracing that irony and this new identity – former South Pole adventurer, now paralysed explorer on a mission to find and connect people on the frontier of spinal injury recovery… If not for me, for the millions of people like me around the world, trying to live in the spirit of those early explorers and believing that just because it hasn't been found doesn't mean that it won't be." (Read the full blog post here)
Tickets for the Outsider People of the Year Awards are available here and cost €10, simply select 'People of the Year Awards' from the drop down list and enter the amount. See you there!
See more nominees at Outsider magazine