Jessica Ennis basks in her gold medal win after the 800m.
Image: John Giles/PA Wire
TODAY WAS THE day that Team GB got out the grappling hook and scaled the medal table.
Everywhere you looked, British athletes were winning gold or putting themselves in a position to do so.
The only thing that broke up the party were some Olympic constants that do not look like changing soon – China dominating at badminton and the USA bullying other countries in the pool.
There was a similar theme for Team Ireland as the performances of an Irish boxer (Paddy Barnes) and Annalise Murphy gave us reason to hope.
Headline of the day:
The Siege of Ennis! The Team GB darling justified all those photo-shoots and public appearances with a performance, over two days in the Heptathlon, that confirmed her majesty. She shattered the Great Britain and Commonwealth records for the event and recorded personal bests in four of the events she competed in. Considering the huge amount of expectation on her Sheffield shoulders, it was a marvellous and awe-inspiring performance.
What we learned today?
Missy Franklin might fancy breaking Phelps' record.
Phelps signed off in style with another gold medal, his 22nd Olympic medal, after the USA romped home in the Men's 4×100 Medley. However, Missy Franklin, the 17-year-old from Pasadena, collected her fourth gold medal of the games to keep a lonely bronze company. Considering Pelps was two years older when he won his first Olympic medal, Franklin is well positioned to give him a run for his momey as the greatest Olympian of all time.
Monday is going to be Ladies' Day for Team Ireland
Annalise Murphy came in third and seventh in her Laser Radial races and is now joint third overall. Points count for double in the Medal Race on Monday (at 1pm) so it really is a case of winner takes all. Just a while later, at 2.30pm, Katie Taylor will take to the boxing ring and will be guaranteed a bronze if she wins. Thankfully, for most of us, it is a Bank Holiday.
It was worth the investment for Team GB
There has been hundreds of million (sterling!) spent on getting a competitive home squad assembled for this Olympic Games and it looks like it is paying off. The cyclists and rowers certainly delivered but now Great Britain is celebrating huge success at track and field. They just need to get those promised one million extra people signed up to sports and just about every box will have been ticked. Andy Murray has further cheered fans by reaching the Men's Tennis Final, where he will play Roger Federer.
Highlights from Team Ireland
Rob Heffernan's face sums up Ireland's day – a bit of this, a bit of that. (INPHO/Morgan Treacy)
Hero of the day
Take your pick from Phelps, Franklin, Ennis or Mo Farah, who put in a stunning final lap to burn off his 10,000m challengers and win gold.
A new friend we made today
Sungyueng Ki of South Korea will have further endeared himself to Celtic supporters. The Bhoys midfielder scored the winning penalty to send Team GB crashing out of the Men's Football. Yep, another penalty shoot-out loss. And, the home team were managed by Stuart Pearce. Someone call Pizza Hut!
You said what?
I came here to give it everything and I put in everything I had. So, I'm not disappointed, no. I did what I could.
- Aileen Morrison tries to remain positive after an unfortunate crash ruined her Olympic dreams in the Women's Triathlon.
It's the same thing every time. Everybody can see it. If we don't clean it up boxing will disappear. There will be a flood and we will sink. I know it and the athletes are sick and tired of it.
- US assistant coach Charles Leverette lets rip at the judges as America's male boxers leave an Olympics without a medal for the first time (© AFP, 2012)
Tweet of the day
It has to go to Paddy Barnes for his audacious tweet from the ring after he beat Thomas Essomba of Cameroon in the light-flyweight boxing:
The best thing we read today
The New York Times has a great feature on 'Bladeruuner' Oscar Pistorius – you can read it here.
Medal table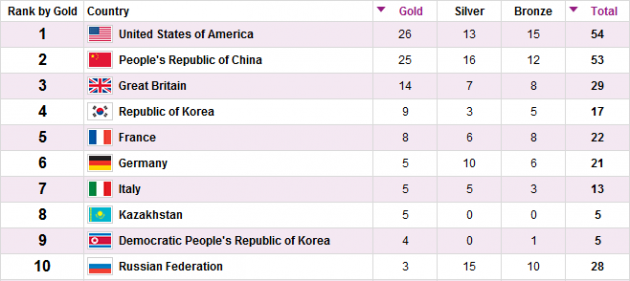 Medal table (as of 22.30 on Saturday, 3 August)